The Living Knowledge Discussion List keeps you informed about news and developments related to building partnerships for public access to research and the international network of Science Shops. It is an open and free mailing list for people that want to join the network or that are interested in building partnerships.
Discussion topics can include news, publications, methods, funding strategies, exchange of expertise, conference announcements and call for papers, press releases of Science Shops and other organizations, discussion topics and themes addressed by subscribers. All subscribers can contribute at any time with any frequency. There is no moderator.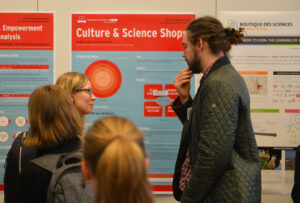 Subscribers of the Living Knowledge Discussion List will receive the free quarterly Living Knowledge newsletter as well. If you want to subscribe for the discussion group and free newsletter follow the link above. You will receive a confirmation request by e-mail.
After you have subscribed the discussion group you will receive an email with instructions about joining and leaving the list. Save these instructions for later use. You can easily unsubscribe the group.
In case you have any problems subscribing the list, please contact the International Science Shop Contact Point: livingknowledge(at)wilabonn.de, phone + 49 (0)228 2016122