Science Shops - Concept of 'social demand' for knowledge
"A Science Shop provides independent, participatory research support in response to concerns experienced by civil society" (Leydesdorff & Ward 2005; Living Knowledge (n.d.)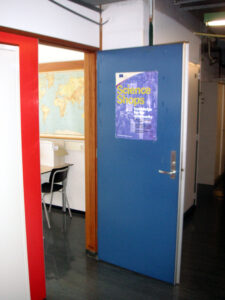 Science Shops are small entities that carry out scientific research in a wide range of disciplines – usually free of charge and – on behalf of citizens and local civil society. The fact that Science Shops respond to civil society's needs for expertise and knowledge is a key element that distinguish them from other knowledge transfer mechanisms.
In addition to the demands made on research and development by commerce and industry, 'civil society' organisations have their own research needs. Diffusion of knowledge often focuses on communication from researchers to society, but in times of facing the great societal challenges there is a demand for communication from society to researchers. This is the concept of 'social demand' for knowledge. Nowadays, a straightforward publication of scientific results and one-way science communication will not suffice.
Between researchers and society different types of interfaces exist, one of which are 'Science Shops' – Organisations created as mediators between citizen groups (trade unions, non-profit organisations, consumers, residents association etc.) and research institutions (universities, independent research facilities). Science Shops are important actors in community-based research (CBR).
Science Shops around the world have several operational models, but they have deeply rooted in their DNA a society-driven and bottom-up approach and the commitment to direct community involvement into their processes (Steinhaus 2014). 
There is not one dominant organisational structure defining a Science Shop. How Science Shops are organised and operate is highly dependent on their context. The term 'science' is used in its broadest sense, incorporating social and human sciences, as well as natural, physical, engineering and technical sciences.
Science Shops are often, but not always, linked to or based in universities, where research is done by students as part of their curriculum – under the supervision of the Science Shop and other associated (university) staff. Over the last years international interest in the Science Shop model has developed, and similar organisations have been established in a wide range of countries.
Science Shops in Practice
In practice, contact between a civil society organisation and a Science Shop or CBR centre starts with a problem in which the civil society organisation is seeking research support. In the following collective search for a solution new knowledge is generated, or at least existing knowledge is combined and adapted – in a striven true partnership without 'science' prevailing in any way. Through their local, national and international contacts, Science Shops provide a unique antenna function for society's current and future demands on science.
As a mission statement, Science Shops seek to:
provide civil society with knowledge and skills through research and education;
provide their services on an affordable basis;
promote and support public access to, and public influence on, science and technology;
create equitable and supportive partnerships with civil society organisations;
enhance understanding among policymakers and education and research institutions of the research and education needs of civil society;
enhance the transferable skills and knowledge of students, community representatives and researchers.
It is recognized that Science Shops provide an inclusive and safe space for participatory dialogue, citizen science and co-creation with a variety of actors. 
Where can I find a Science Shop
Science Shops exist in many countries today. You can find an overview of contact points of Science Shop or related organisations in different countries on our website under 
contacts
. You can also get in contact with a network of experts and expertise by 
joining the Living Knowledge network
.