Science Shop Summer School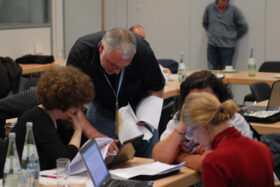 The Science Shop Summer School is an intensive programme that focuses on the concept of Science Shops and community-based research in general. Experienced Science Shop staff discusses operational options and good practices, but also barriers in running a Science Shop. Local contexts are very important factors for the success of a Science Shop. Therefore, active contributions of participants are essential in the discussions. 
Target groups: Scientists, science communicators, community leaders, NGO representatives, graduate students, PhD students, and others who are interested in setting up a Science Shop or starting Community-Based Research projects. 

Exemplary agenda of a Summer School:
Introducing the Concept of Science Shops

Working with Civil Society Organizations (CSOs)
Working with Higher Education Institutes
Operational options to design your Science Shop
Sustained Partnerships
Network and Practical Resource